14 weeks of melodies | Week #1
Tuesday, October 01, 2013
So it's the 1st of 14 weeks... read below for all the Info and if you want to come along our 14 weeks journey your more than welcome!!!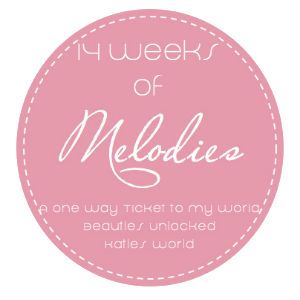 Welcome to a new blog hop & an exciting challenge.
The name of this game is 14 weeks of melodies. This blog hop will take place every TUESDAY.
The game will run from October 1st, 2013 through December 31st, 2013.
There will be a PRIZE for grabs at the end of each month.
On December 31st there will be a GRAND PRIZE for the blogger that was able to complete this challenge for all 14 weeks! :)
Here are the rules:
1. Pick a song that represents you or represents your mood this week
2. Share with everyone why you picked this song.
3. Grab our button to post it on your blog so others can join in :)
4. Link up your accounts. Each link up will count as an entry (blog, bloglovin, twitter, etc)
Disclaimer: In order to win you must be following your hosts.
A One Way Ticket to My World Blog | Bloglovin | Twitter
If you are interested in co-hosting send me an
email

Carrieanne - My Song pick for this week is an old one .... Things Can Only Get Better by D:Ream
Work is not the best at the minute and we have all been pulling our self's through it thinking of the positives in life and this is the song that has been in my head and best describes my mood and work life at the moment but only the chorus!! The verse isn't relevant to me but the Chorus is definitely spurring me on and is something I keep saying to myself and the other girls on my team and it has definetly lightened the mood.
Lisa - My song this week has to be Man in the mirror by Micheal Jackson, I have recently realised that although things may not be exactly how i would like them to be in my life but at the end of the day there are so many people out there with serious issues they face everyday, illness, homelessness , poverty the list goes on. This week my boyfriend and i have been buying food for the food bank, signed up to be a blood donor and made sure we are opted in for organ donation, only little things but everything helps right.. we plan to do more for charities from now on.



So here you have it ladies n gents, let's see who can do it for all 14 weeks straight ;)
"May the odds be ever in your favor"